Mapping the Future
Mapping the Future is a five year, $10m Northern Territory Government initiative. The program will assess natural resource development potential in strategic locations.
From 2018 to 2022 the program will survey and map:
land capability
water availability and
biodiversity assets.
To support land planning, reduce investment decision risk and encourage the private sector to do business in the Territory.
An overview
Mapping the Future will identify and measure the Northern Territory's natural resource capability. The program will take a broader approach compared to any other work done before. It will help:
guide and support future economic growth and
improve our natural resource knowledge base in areas with high development potential that are ready for development.
Being able to assess the potential of our natural resources will:
assist and support development in the Territory
give us the ability to better manage our resources and
provide local communities with development options.
Prefeasibility assessments will:
reduce risk to investment decisions
assist strategic land use planning and identification of priority development zones and
provide an evidence based tool that supports sustainable management and use of our natural resources.
Mapping the Future will:
support our regions sustainable economic growth
improve job opportunities and infrastructure in the community and
assist protection of our environment.
Potential assessment areas
Identifying potential areas for Mapping the Future involved a range of actions.
We conducted extensive consultations and had robust discussions with stakeholders from:
industry
government and
non-government organisations.
We referenced government development policies, such as:
Economic Development Framework
10 year Infrastructure Plan
Major Projects program and
Potential NT Mining Development program.
We also recognised:
existing data and information
transport routes
power and communication services
local workforce
distance to market
areas where government are already investing or plan to invest in infrastructure and
areas where developers are ready to invest.
Prioritising assessment areas
Significantly more potential assessment areas were identified than the program has capacity to investigate. Prioritising involved assessing the cost and difficulty of collecting required data versus how attractive the land is for development and investment.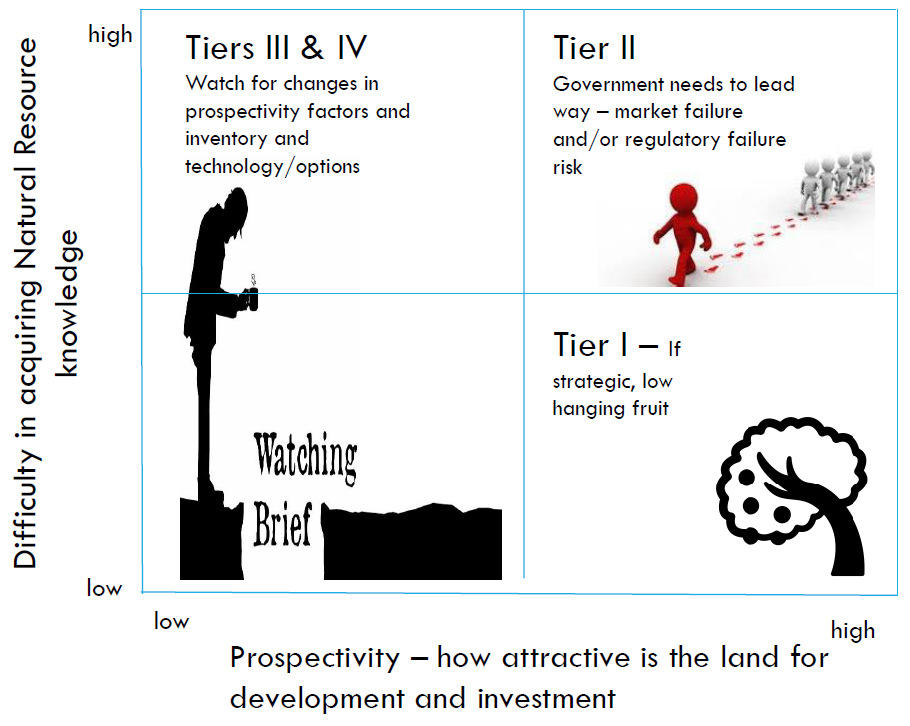 Tier 1 areas provide strong return for effort and where significant knowledge of the natural resources already exist.
Tier 2 areas are those where Government investment will address knowledge gaps that currently represent a risk to industry or developers.
Tier 3 areas are those where market conditions or technology may need to change before a development project becomes viable.
Priority areas
Applying the prioritisation matrix resulted in 12 areas being selected for assessment over the five year program. See priority areas for 2018 to 2022 PDF (1.9 MB).
In addition to the selection criteria the selected priority areas will provide assessments in a variety of environments:
Peri-urban, rural, remote and Aboriginal communities
supporting multiple industries including mining, agriculture, horticulture and tourism
Top End and Arid Zone
fine scale assessments for intensive developments and regional scale where knowledge is limited, but there is a need to identify major land use constraints to inform development assessment advice.
In 2018-19 the Mapping the Future's program will focus on:
Wadeye
Greater Katherine
Western Davenport and
Gunn Point.
Reports and maps
The Mapping the Future program builds upon the existing natural resource knowledge base.
Surveys, reports and maps published under the Land and Water Program 2014-18, that align with the objectives of Mapping the Future, are being incorporated into this program.
These are being supplemented by more information to identify land capability, water availability and biodiversity assets.
Mapping the Future projects already underway
The following projects are already underway:
Gunn Point
Katherine
Larrimah
Wadeye
West Davenport
Mapping the Future projects yet to commence
The following projects are yet to commence:
Gulf Fall
Lower Roper
Sturt Plateau
Arid Zone
Alice Springs
Completed projects under the Land and Water Program 2014-18
The following projects are completed under the Land and Water Program 2014-18:
Kurnturlpara and part of Warumungu Aboriginal Land Trusts
North East Bathurst (Tiwi Islands)
Orange Creek
Tennant Creek West
Ti Tree
Wildman
Other related publications, spatial data and maps
Read about Land, soil and vegetation information and go to online maps.
Go to Land, soil and vegetation technical information for more information on soils and vegetation of the NT.
Visit the Northern Territory Library for other reports published by the department.
Spatial datasets are available for download.
Contacts
For further information on the Mapping the Future project contact the Project Director.
Simon Cruickshank
Phone: 08 8999 3676
simon.cruickshank@nt.gov.au
---
Last updated: 22 May 2019
Give feedback about this page.
Share this page:
URL copied!