Darwin Harbour and marine environments
Information about the Darwin Harbour, marine habitats and animals, including results and trends in water quality monitoring.
---
Freshwater ecosystems
Information about the river and creek health, including the monitoring of water quality, fish and aquatic plants and animals.
---
Groundwater-dependent ecosystems
Information about springs and desert waterholes that are groundwater-fed, including fish monitoring.
---
River health in the Top End
Our rivers are loved by Territorians and visitors for their natural beauty and great fishing; they support cultural values, tourism, agriculture and development in the region. To help protect the health of our rivers, annual river health monitoring is conducted in selected Top End catchments.
For the latest monitoring information, go to our interactive monitoring map for the Daly and Roper Rivers or read about monitoring in Rapid Creek and Central Australia.
"Cause and effect" monitoring
River health monitoring is based on a "cause and effect" model and ideally includes three levels of indicators:
pressures
stressors and
ecological responses.
Pressures are human activities that are the underlying cause of changes in the health of the environment, while stressors are the physical or chemical changes that occur due to these pressures.
The ecological response is the effect these changes have on the plants and animals in the ecosystem.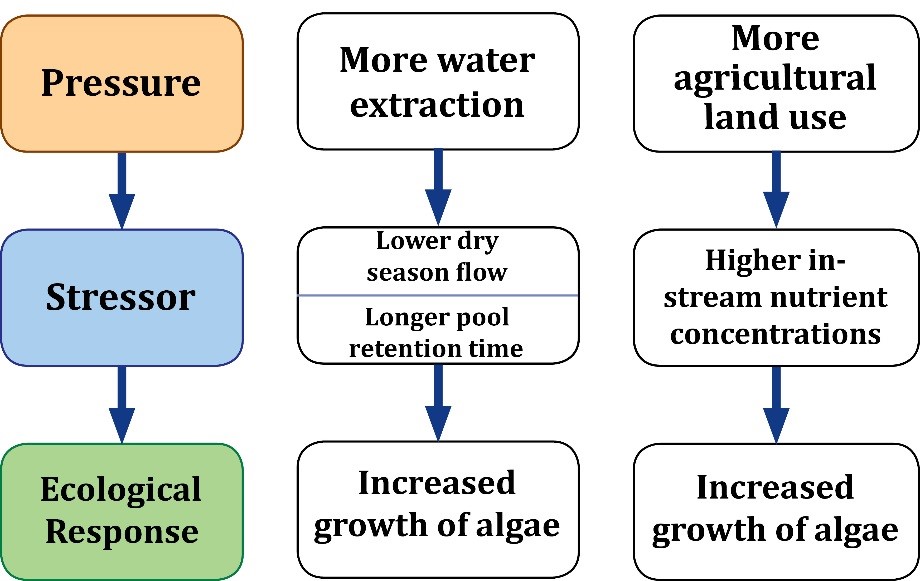 For example, a change in land use from a natural environment to agriculture (pressure) may cause an increase in nutrients in an adjacent creek (stressor) and lead to an increase in algal growth (ecological response).
Several stressors often combine to affect biological indicators. For example, aquatic plant growth is determined by three main environmental factors:
Conditions have to be favourable for all three of these factors to cause an impact on aquatic plant and algal growth.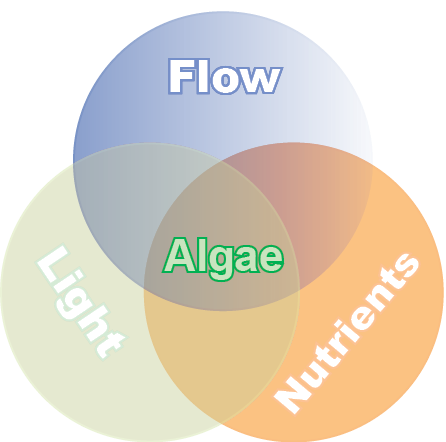 ---
Daly and Roper River health monitoring program
The Daly/Roper River health monitoring program takes place every dry season.
During the dry the rivers are most vulnerable to impacts from groundwater pollution and water extraction.
There are 21 freshwater sites that are monitored mid dry season when flow conditions are stable and flow is supplied by groundwater.
The program measures indicators from each of the three levels of the cause and effect model. Read about river health in the Top End.
The indicators are as follows:
biological indicators are the most critical to detect actual impacts on the ecosystem
stressor indicators, such as water quality and toxicants can provide early warning of potential changes
pressure indicators are important to inform the adaptive management of aquatic ecosystems, pressures can be directly influenced by management actions.
For the latest monitoring information you will need to logon to the Northern Territory Government's arcGIS.
---
Aquatic pests
It is illegal to release aquarium fish and aquatic plants into freshwater waterways in the Northern Territory (NT).
Releasing non-native fish and plants, or the water they have been living in, threatens the NT's freshwater ecosystems.
For more information on non-native plants, fish and snails go to the NT Government's page on freshwater pests.
---