Darwin Rural Groundwater Watch
Where does your water come from?
Most rural residents access groundwater resources for their everyday water supply through their bore.
Many different groundwater systems underlie the rural area. These systems determine what water your bore can access.
Find out what groundwater system you are drawing your water from by using the:
|
Are our groundwater systems different?
Yes they are!
Our groundwater systems are made up of aquifers, which are geological structures. Groundwater is the water that fills the spaces, cracks and crevices in rock and sand/gravel.
Depending on where you live, the types of groundwater systems that underlie your block will be different.
It is the rock type that determines:
how much water an aquifer can hold
how fast it refills and drains
how water moves through the aquifer and
how much can be pumped out.
View the Darwin Rural Groundwater story.
You can find out more about our groundwater in this fact sheet PDF (3.4 MB).
The groundwater systems that underlie the Darwin rural area are called 'fill and spill'.
'Fill and spill' systems, do not have large storages and rely on the wet season rainfall to refill each year.
Where we experience wet seasons with above average rainfall, systems refill and the excess water will spill out, into our waterways.
Before 2013, we had consistent above average wet seasons. We have taken this to be normal. We are now in a drier climate cycle.
The Darwin rural area had two successive poor wet seasons in 2014/2015 and 2015/2016. Groundwater levels were low, close to lowest on record.
Now we face the same situation. Our poor wet season for 2018/2019 meant that groundwater systems were not been refilled to normal levels.
This was followed by another poor wet season in 2019/2020.
It is now time for us all to manage our water use PDF (2.7 MB).
So how many buckets of water can you save and help stop the drop?
Hydrographs provide a picture of how the water table in a bore varies over time. As the name suggests they are graphs. They show the depth from the ground surface to the water table plotted against time.
The below hydrographs are from different monitoring bores PDF (59.9 KB) located throughout the Darwin Rural area.
These graphs are updated at the end of the month.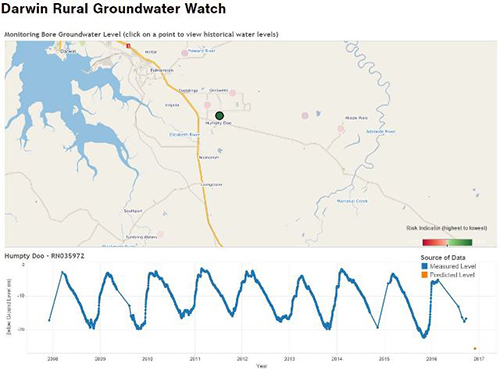 Last updated: 30 March 2021
Share this page: