Storm surge inundation maps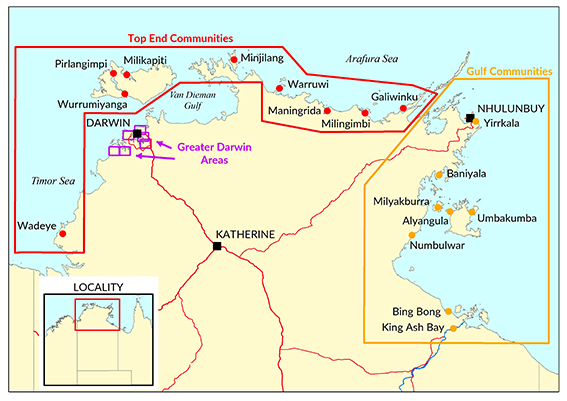 The Northern Territory coastline can experience storm surge, which is an on shore inundation resulting from strong onshore winds associated with a tropical cyclone. A Tropical Cyclone Storm Tide is the combined effects of a normal tide (low to high astronomical tide) plus storm surge plus wave setup.
Storm surge inundation maps have been developed for areas in Greater Darwin and for communities in the Gulf and Top End regions. These maps are based on the projected mean sea level by year 2100 for hazard Return Periods (or Average Recurrence Intervals ARIs).
Greater Darwin Areas
Greater Darwin Strom Surge Inundation Overview Sheet
Storm surge inundation areas mapped:
Gulf Communities
Gulf Communities Storm Surge Inundation Overview Sheet
Storm surge inundation communities mapped:
Top End Communities
Top End Communities Storm Surge Overview Sheet
Storm surge inundation communities mapped:
Other Resources
For further information, please contact
Department of Environment and Natural Resources
Water Assessment, Water Resources Division
Level 4, Goyder Centre, 25 Chung Wah Tce, Palmerston, Northern Territory
Phone: (08) 899 94455
Email: waterresources@nt.gov.au
Last updated: 26 February 2021
Share this page: