Beswick
In 2017-18 the Department of Environment and Environment and Natural Resources undertook a soil and land suitability assessment on Aboriginal Lands in the Beswick area.
Of the 1,160ha surveyed, 265ha were identified as versatile land suited to a range of irrigated agricultural cropping options.
Information regarding groundwater resources in this area are available from the Daly Basin Groundwater Resource Assessment: North Mataranka to Daly Waters report.
Structural and floristic vegetation characteristics were recorded throughout the study area, summary descriptions are presented within the Soil and Land Suitability Assessment report.
View survey location on NR Maps.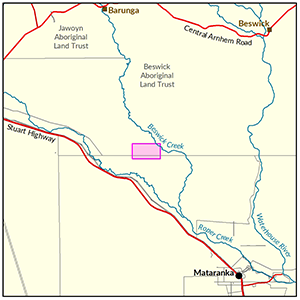 View a larger version of the Beswick locality map.
Soil and land
The following report and maps document the soil and land factors likely to impact irrigated agricultural development and highlight the crops most suited to the study area.
Water
The 'Daly Basin Groundwater resource Assessment: North Mataranka to Daly Waters report' is a technical report assessing the Tindall Limestone aquifer underlying the region.
The report estimates groundwater availability, quality and bore yield and describes the likely impact of further extraction from the aquifer.
---
Last updated: 21 July 2020
Give feedback about this page.
Share this page:
URL copied!