Development opportunities
The Mapping the Future program provides bio-physical resources information to:
improve planning outcomes
de-risk investment decisions and
promote sustainable economic development in the NT.
Where appropriate, projects will identify and map land capability, water availability and biodiversity assets at strategic locations within the NT.
Project outcomes will provide confidence about the biophysical resources and a baseline of information to inform investment decisions and effective regulatory decisions.
Read more about the program, its objectives and the method for prioritising assessment areas.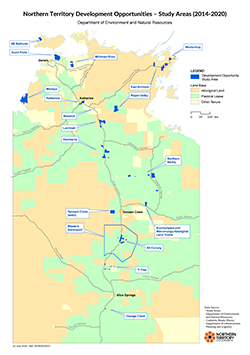 View a larger version of the NT Development Opportunities study areas 2014 to 2020.
Project areas
Last updated: 05 August 2020
Share this page: