Katherine
A soil and land suitability assessment and biodiversity assessment for Katherine is currently underway with reports due to be published late 2021.
Integrating these products with the Katherine Tindall Limestone Aquifer (2019-2024) Water Allocation Plan will provide a comprehensive overview of the biophysical resources within the Katherine Town Plan area.
The project will guide future land planning decisions and inform future investment decisions within the community.
View the survey location on NR Maps.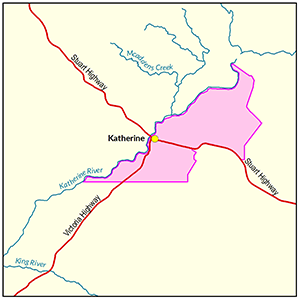 View a larger version of the Katherine locality map.
---
Last updated: 21 July 2020
Give feedback about this page.
Share this page:
URL copied!