Orange Creek
In 2016-17 the Department of Environment and Environment and Natural Resources undertook a soil and land suitability assessment on a portion of Hugh River Valley within Orange Creek Station.
This was part of a wider program to identify and promote areas of soil, land and water resource assets with potential for irrigated agriculture on pastoral, crown, private and Indigenous Lands.
Of the 1,664ha surveyed, 680ha were identified as high capability land and 422ha as land of moderate capability.
Crop type suitability findings indicate between 71ha and 87ha of land is suitable for irrigated agriculture with only minor limitations. A further 1,043 to 1,130ha is considered suitable land with moderate limitations.
In 2018-19 a preliminary assessment of groundwater storage in the Cambrian Carbonate Aquifers was undertaken.
These aquifers represent the most productive aquifers at Orange Creek Station that would be accessed by any irrigation development referred to in the soil and land suitability assessment.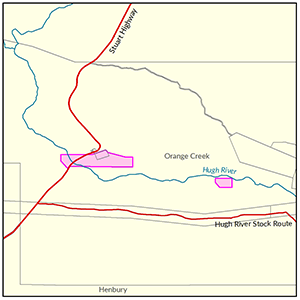 View a larger version of the Orange Creek locality map.
Soil and land
The following report and maps document the soil and land factors likely to impact irrigated agricultural development and highlight the crops most suited to the study area.
Water
The 'Orange Creek Groundwater Assessment report' is a technical report assessing the Cambrian Carbonate aquifer underlying the region.
The report provides a preliminary estimate of groundwater storage, details of current use and an indication of the maximum permissible total annual extraction rate.
---
Last updated: 21 July 2020
Give feedback about this page.
Share this page:
URL copied!