Tennant Creek West
In 2015-16-the Department of Environment and Environment and Natural Resources undertook a soil and land suitability assessment for irrigated agriculture in the Tennant Creek West area.
The investigation was undertaken in collaboration with pastoral lessees and Traditional Owners – 30km to 65kms west of Tennant Creek.
The project investigated 57,855ha of Aboriginal land and pastoral lease.
A total of 47,200ha of which was identified as high capability land and 7,320ha classified as having moderate capability.
The land suitability assessment identified approximately 48,000ha having potential to support field crops, hay/forage, and row crops, and 42,500ha for tree crops.
No water resource assessments have been conducted for this area. However, bore pump test results for bores drilled on Puwarinji Outstation in 1985 indicated very limited potential for groundwater supply.
View the survey location on NR Maps.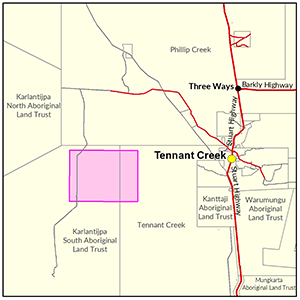 View a larger version of the Tennant Creek West locality map.
Soil and land
The following report and maps document the soil and land factors like to impact irrigated agricultural development and highlight the crops must suited to the study area.
---
Last updated: 21 July 2020
Give feedback about this page.
Share this page:
URL copied!